Buy Wholesale CBD Oil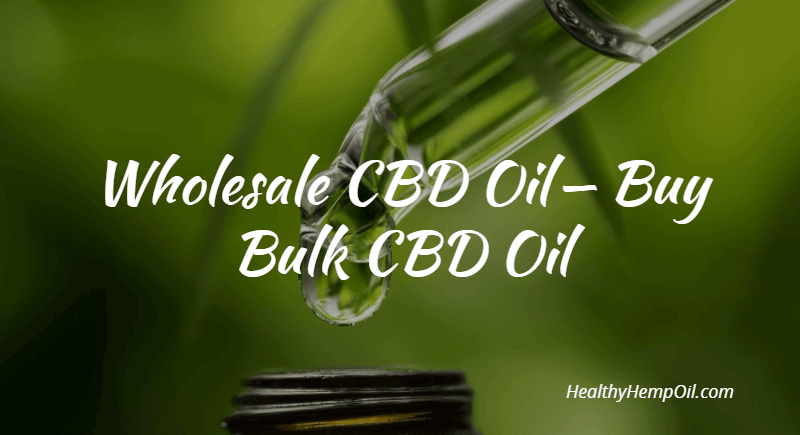 Thank you for your interest in purchasing wholesale CBD oil from Healthy Hemp Oil. We're committed to offering our customers the world's best CBD products at unbeatable prices, with a focus on building long-term working relationships.
Whether you're a dispensary, a convenience store, a supplement retailer, or a specialist trader, we'll help you offer your customers safe, premium-quality CBD products. We've invested a great deal of time to ensure the entire process is as simple and profitable as possible.
Please share your information below to get started.
Why order bulk CBD oil?
Bulk ordering a product like CBD oil is the ideal way to proactively grow your small or medium-sized supplement business. Instead of reacting to one or two orders at a time, you can build a reserve of merchandise and reliably deliver as advertised, on schedule.
But it's not just about speed of fulfilment and keeping customers happy; buying in bulk makes financial sense too. When you purchase wholesale hemp products, you do so for a price based on volume. Bulk pricing is a great way for small businesses to decrease cost per unit, lower operational overheads, and maintain a competitive edge. You can then mark up the product to sell for a profit.
And there's also the argument that buying in bulk is far more environmentally friendly than making multiple, smaller orders throughout the month. Bulk wholesale purchases require less packaging and fewer deliveries, meaning less waste and pollution.
In short, ordering bulk CBD oil products is about gettingmore for less, then selling at a profit.
Why stock CBD oil in your store?
Many health and well-being businesses are purchasing wholesale CBD oil products and selling them to their customers as a healthy and natural dietary supplement. If you're currently offering similar products, CBD will make a terrific addition to your store.
But why? Well, premium hemp oilcontinues to grow in popularity, with discerning consumers choosing to make it part of their wellness regimens, while others are using it as an alternative to the likes of cold-pressed olive oil in salads and other recipes.
CBD products can help your customers experience feelings of calm, reduce anxiety, improve sleep, relieve pain and inflammation, and much more. This level of effectiveness is likely to result instrong customer loyalty and retention—yet another reason why it makes sense to stock CBD oil in your store.
And over the past five years, Google searches related to CBD oil have increased steadily, both in the United States and worldwide. We fully expect this trend to continue.
"Am I allowed to sell CBD oil?"
It's a question we're asked often, and there's a good chance the answer is an emphatic "yes."
As you know, CBD (cannabidiol) is derived from the cannabis plant and is one of the most abundant cannabinoids present, along with THC (tetrahydrocannabinol).
However, unlike the psychoactive THC, CBD does not produce a "high" and is completely legal in all 50 states and in many countries worldwide. This means you can confidently—and more importantly,legally—purchase wholesale CBD to sell to your customers.
We always recommend you undertake your own research into the rules and regulations surrounding CBD where you are, but when you complete our inquiry form, we can help advise you before you begin selling CBD online or in-store.
The Process to Order Wholesale Hemp Products
We're always keen to hear from people interested in supplying top-quality CBD products to their customers, and we're open to accepting applications from wholesalers, distributors, and retailers looking to purchase CBD wholesale.
Whether you're a startup entrepreneur or an established company, Healthy Hemp Oil offers an innovative wholesale program to supply your CBD in bulk, no matter where you're located. Our purchase system allows us to offer substantial discounts on CBD wholesale orders.
To get started, simply complete the contact form on this page and ensure you meet our minimum CBD wholesale requirements (below). Once you've submitted the form, our wholesale team will reach out within 48 hours to discuss your needs and the next steps.
Minimum CBD wholesale requirements
In order to maintain our high standards, there are certain minimum requirements our partners must meet to be eligible to order bulk CBD oil from Healthy Hemp Oil. This helps us make sure our clients receive top-quality service and consistent deliveries throughout our working relationship.
These requirements include:
Applying businesses or sole proprietors must possess a legal license according to the state and federal laws within their respective location and according to their respective business jurisdiction.
Businesses should be active in a broad industry that is relevant to CBD.
All applicants must possess a valid reseller's license, a valid EIN, or a social security number.
International businesses must provide relevant local licensing and legal information according to the laws of the countries from which they operate.
How do we support our CBD wholesale partners?
There are a number of compelling reasons for purchasing wholesale CBD oil products, and as one of our CBD wholesale partners, we would be only too happy to share them.
Here at Healthy Hemp Oil, we believe that an informed customer is a happy customer. And by partnering with us, we can make sure you have all the necessary information at your fingertips.
Of course, where there's information there's often misinformation, which is why we're fully committed to providing the best online resources to support our range of CBD products. And we want to help you make the best possible decision when it comes to purchasing the right bulk CBD oil products, which is why we have created theCBD Oil Buyers Guide.
In it, you'll find information regarding volume and concentration of CBD oil, an explanation of the different types of CBD products, and our recommendations of the top CBD brands.
Note: Online searches for CBD have grown significantly over the past decade. In our own experience, CBD products tend to sell very quickly, and will almost certainly be in high demand in your store. Now is the perfect time to learn more about CBD and add it to your product line.
Partnering with the World's Most Trusted CBD Provider
We like to get to know the businesses that sell our products and the people behind them, so please fill out the short form below with your business information. We will get in touch with you to explain the ordering process for bulk CBD oil fromHealthy Hemp Oil.
Once we receive your inquiry, we will contact you within 48 hours to discuss how we can best meet your needs.
If you are an existing CBD wholesale customer, please send an email directly to [email protected].
We look forward to hearing from you soon!