It all started with a little girl whose family was on the verge of giving up – a little girl who changed the cannabis culture as it stands today. Her very existence and the medical needs she brought attention to give a new perspective to the scientific and medical community.
What started as a desperate cry for help to change the prospects of a young girl's life changed the nation's views on what medicinal cannabis can really do for its patients. It spurred a viral curiosity over what has long been considered taboo. We are talking about the extraordinary strain of cannabis called Charlotte's Web. 
Here is the incredible story of how Charlotte came to revolutionize the cannabis industry. It's the touching story of a little girl who defied all of the odds of her condition with the help of a unique strain of cannabis that most people overlook and the history and benefits of how Charlotte's Web has helped others like Charlotte.
Charlotte's Web and Its History
Since the creation of the Charlotte's Web strain, many have heard about or watched Charlotte's story online. What you may have learned is that a little girl from Colorado ultimately shifted the views and opinions of an entire nation on the use of medicinal cannabis.
Charlotte Figi's Story
Charlotte was born perfectly healthy, much like her fraternal twin sister, to the Figi family and her parents Matt and Paige. When she reached 3 months of age, she experienced her first epileptic episode. It was a day that led to many more days and nights of pain and suffering – most of which sent her to the hospital.
During her first visit to the hospital, many medical exams were performed: MRIs, EEGs, spinal taps, and blood tests. They all came back normal. Doctors could not find anything wrong with Charlotte Figi, so she was sent home. Her second episode occurred a week later only to last longer and more intensely than the first. The curious thing was that she was thriving and hitting all of the usual milestones for a toddler her age. She and her fraternal twin were developing at the same rate, both physically and cognitively, even though the seizures grew with her.
The Episodes Begin to Take Their Toll
By the time she was 2 years old, the epileptic episodes were finally taking a toll on little Charlotte. Her once happy personality began to fade, and she was not keeping up cognitively with her twin sister anymore. Charlotte's life became a nightmare with uncontrollable seizures that became a daily occurrence. Tests were continually done, but no one could figure out what she had.
She was experiencing over 300 epileptic episodes a week. Charlotte could not move, talk, or eat.
It was when Charlotte was 2 ½ years old that a doctor from the Children's Hospital in Colorado tested her positive for a genetically mutated gene found in 80% of Dravet syndrome cases. Charlotte Figi was diagnosed with Dravet syndrome (also called myoclonic epilepsy). It is a rare form of severe, intractable epilepsy that begins in the first year of life and continues to increase in quantity, length, and severity. The episodes are unstoppable and difficult to control with damaging effects that cause behavioral, cognitive, and emotional trauma that stunt growth.
Dravet syndrome is also incurable. Most Dravet kids have a short lifespan, only surviving into early childhood. It is also impossible to heal with the use of medicine. When Charlotte's seizures worsened and prescribed medication had zero effect on her. Her mental functions worsened and were nearly nonexistent.
Open to Try Anything
As the clock ticked away on Charlotte's life, the Figi family tried everything from considering an experimental drug to treat seizures in dogs to trying out ketogenic diets. At first, the diet seemed to work, but as Charlotte began to lose bone mass and develop immunity and behavioral problems, they knew that it was not going to be a sustainable option.
Two years after the start of her specialized diet, the seizures returned and intensified. They were paralyzing, and the seizures and muscle cramps lasted up to 30 minutes. The Figis became desperate for options, trying out acupuncture and powerful drugs, such as Ativan, Valium, and Vivitrol.
The drugs almost killed their little girl. After taking them, Charlotte stopped breathing and lost her pulse. The drugs caused her heart to stop, and she was taken to the hospital many times where her family braced for the worst.
A Turn for the Worse
At the age of 6, Charlotte's seizures worsened at an unacceptable rate. She was experiencing over 300 epileptic episodes a week. If you average that out, that is 2 seizures per hour. Charlotte could not move, talk, or eat.
Image via CNN
As a desperate measure, the doctors suggested putting Charlotte in a medically induced coma so that her brain and body could rest. It was when the family was about to lose all hope in finding a plausible answer that Matt Figi stumbled upon a video of a boy who was prescribed a treatment of a marijuana strain that was high in CBD and low in THC. The video of the treatment of this California boy went on to explain how CBD products can reduce the chemical that causes epileptic activity in the brain. Best of all, the electrical activity can be reduced without any substantial side effects.
The Figis were at odds with this option because the family was not in favor of the legalization of marijuana, particularly for a 6-year-old. But without further options and with every treatment failing their daughter, it was no longer a decision that they had the luxury to make. It was the next viable option.
Moving Forward with CBD
Since the Figi family had no other choices offered to them by the medical community, medical marijuana was the next natural course of action as it was their last resort. It was not smooth sailing. They had to face the next obstacle in their journey by obtaining a medical marijuana card. They needed the recommendations of two independent doctors before Charlotte could be registered as a medical cannabis user and given access to the program.
At the time, Charlotte was the youngest subject to ever register for the program in the state of Colorado, and they were rejected by many medical professionals before they found their supporters. Research on the impact of cannabis on young children was scarce, if not nonexistent. Many physicians turned Paige Figi away and even challenged her request for support. They were reluctant because it was unfamiliar to them, even if Charlotte had run out of options.
Paige Figi went to a local marijuana dispensary and asked for a product that had the most CBD and very little THC. She took it home and turned it into a CBD oil, and the rest was history
That was when luck brought Paige Figi to the first doctor who came onboard, Dr. Margaret Gedde, who saw that Charlotte Figi had come close to death enough times to warrant her support of the use of cannabis. The severity of Charlotte's condition was also brought to the attention of her second doctor, Dr. Alan Shackelford, a Harvard-trained physician who experienced firsthand how critical Charlotte's situation was when she seized twice while he examined her.
With the green light to go, Paige Figi went to a local marijuana dispensary and asked for a product that had the most CBD and very little THC. She took it home and turned it into a CBD oil that she could feed to Charlotte, and the rest was history.
The Figi family was floored by the hours and days that passed without one single epileptic episode. Their hopes and prayers were finally answered.
However, this was not to last as this strain was not one that most individuals sought out, and the dispensary had minimal amounts to sell to Paige Figi. Miraculously, that was also when the Figi family heard about the Stanley brothers.
The Stanley family, six brothers who owned a greenhouse of marijuana high in CBD, had their reservations about supplying the Figis with their particular strain of hemp. They grew that strain for research purposes and were trying new things with it. Never did they think that anyone would want it as it was not a sellable product, and no one wanted a strain of cannabis with minimal to no THC.
The Development of Charlotte's Web CBD Oils
In the late spring of 2012, Charlotte tried the Stanley brothers' unique strain of high CBD products from their company, CW Hemp, which represents the Charlotte's Web strain today. Her life was changed for the better forever.
Her seizures went down to one episode per week, sometimes even to one a month
This little girl, who was once catatonic with over 300 seizures a week, now had a large source of CBD oils to help her live again. Her seizures went down to one episode per week, sometimes even to one a month. Charlotte got a dose of two spoonfuls of CW Hemp CBD oils twice a day with her meals. It assisted her in regulating her seizures, seemingly without any side effects, and it was able to give her a second chance.
Charlotte could have the experience of growing up as a healthy little girl and learn how to talk again and even ride a bicycle for the first time. She could feed herself again, after 2 years of being fed through a feeding tube. Also, she reportedly stopped using any of her previous medications and relied only on her CW Hemp CBD oils as her daily supplementation. Charlotte's recovery was remarkable.


Image via CWHEMP
The Stanley brothers named the strain that Charlotte took after her as she was the very first pediatric patient to successfully try it. The results she had and the coverage she got in the media quickly gained national recognition for the medical marijuana community.
Charlotte Figi and her family were even featured on a documentary special called "Weed," conducted by CNN's medical correspondent Dr. Sanjay Gupta. Dr. Gupta, a famous physician, was once an opponent to the legalization to medical cannabis, just like the Figis. But after doing his own research and seeing the benefits that Charlotte received from the Stanley brothers' distinct strain of CBD products, he changed his attitude and became an advocate.
The Next Phase


Image via CWHEMP
Charlotte's story put a spotlight on the extraordinary benefits of medical cannabis and gave hope to many families in similar situations. Her ability to overcome the effects of her illness with CW Hemp's CBD oils has caused policymakers and the government to be more open to the development of and research into high CBD strains as a medical option.
The Stanley Brothers
The Stanley brothers originally started their business of breeding for the medical cannabis industry. Shortly after emerging as breeders, they began to produce a particularly high-CBD cannabis strain in 2009.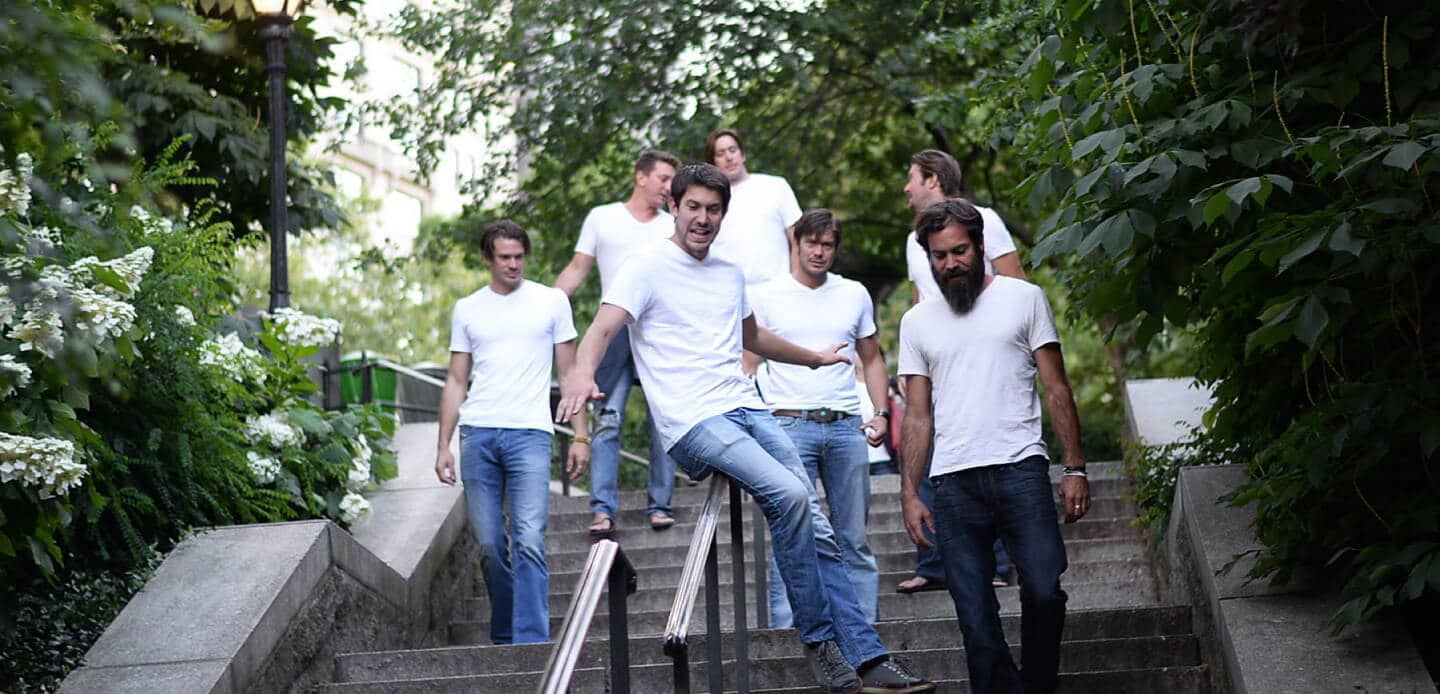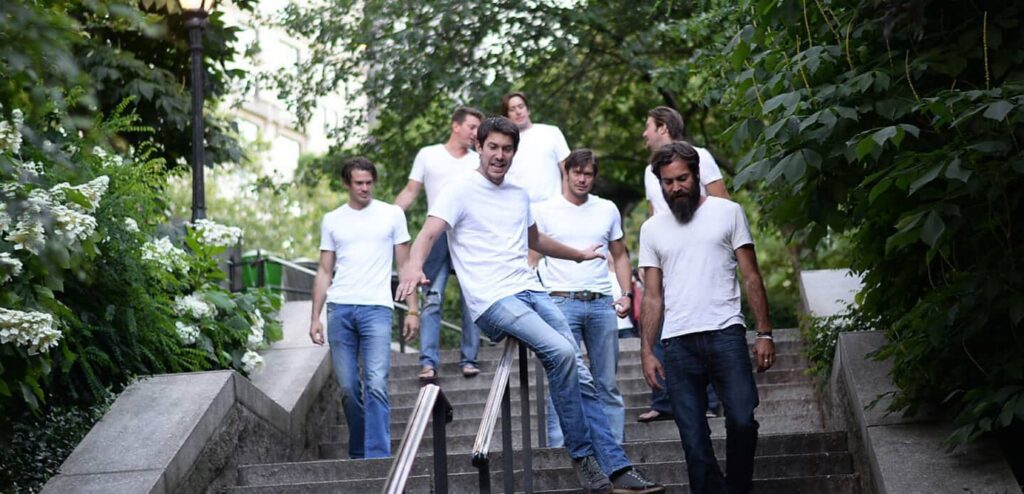 Image via STANLEY BROTHERS
After meeting Charlotte Figi and her family, the Stanley brothers developed Charlotte's Web hemp oils into safe and effective tinctures that have no known lethal dosage. The only significant side effects are potential feelings of dizziness and nausea. They became known as the Robin Hood of the marijuana industry because of their mission to create affordable medical options for sick kids who needed it the most.
The name Charlotte's Web was obviously a homage to the success that Charlotte Figi experienced as well for the strain's web-like appearance. The Stanley brothers' CBD project, now known as Charlotte's Web, was memorialized in 2012. The dramatic accomplishments urged the Stanley brothers to spawn several other strains with low enough THC to be in production as industrial hemp.
Realm of Caring
The Stanley Brothers and the Figi family, along with several others, established the Realm of Caring Foundation when the co-founders realized the need for formal education, research, and development on what high CBD cannabis could do for families across the nation. Their focus was to bring to light the misinformed perceptions of medical marijuana as well as to collect data and the results of individuals taking the product.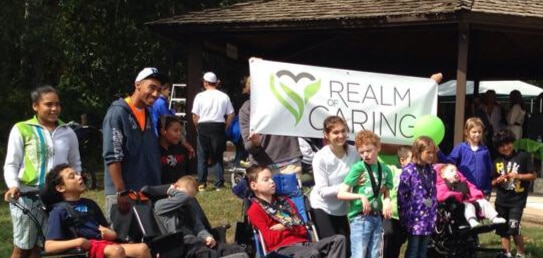 Image via ROC
The Realm of Caring Foundation became a nonprofit establishment in 2013, and they made it a mission to advocate and educate others on the benefits associated with natural therapies, including cannabis for chronic health conditions.
The organization has a special working relationship with the Johns Hopkins University School of Medicine to help the public and policymakers realize the successes of cannabinoid supplements and therapies. The university contributes by validating the benefits with research and offering guidance with scientific findings. It does not offer any advice because of legality issues, but it can cite the school's results and data.
Charlotte Web-Based Products
Based on a family-owned botanical farm in Colorado, the Stanley brothers created the Charlotte's Web strain of marijuana that became a world-renowned, industrial, hemp-based CBD product. With over 25 years of combined experience in the industry, their CW Hemp products are closely monitored throughout the entire process, from Charlotte's Web CBD seeds to the final bottled product. Only the highest standard for quality is accepted, along with having the best practices for the sustainability of the community.
All CW Hemp products contain a blend of carefully manufactured Charlotte's Web hemp extracts. Laboratory tested to be rich in CBD, CW Hemp's products utilize only the best of their harvested industrial hemp. CW Hemp's laboratories also follow strict FDA guidelines to provide a consistent product with quality control in place. It is non-GMO, 100% vegetarian, and gluten-free. Charlotte's Web CBDs all yield to the California's Prop 65 regulations and are compliant with EPA standards. (2)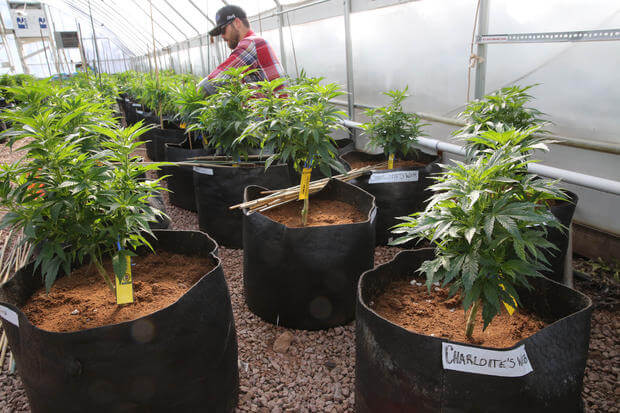 Image via CBS
From seed to bottle, production begins at the farms where natural and sustainable practices are utilized to germinate the Charlotte's Web strain. All soils are tested and cleared of contaminants and other toxic and heavy metals before plantation. Although not fully USDA Organic certified yet, Charlotte's Web plants are organically and sustainably cultivated, with techniques such as using natural predators of common hemp pests without the use of pesticides. The farms use cover crops and no-tilling farming methods without ever spraying anything toxic or harmful.
You can rest assured that you will get a reliable product every time because of the consistent type of hemp used. CW Hemp's branded hemp plants are expertly bred by the Stanley brothers to optimize consistency and sustainability. Every bottle purchased will yield the same benefits, regardless of when you bought it.
CW Hemp's FDA-registered farms and manufacturing facilities are certified to follow GMP (FDA's Good Manufacturing Practices) guidelines. This means that Charlotte's Web CBD products are always produced with the highest quality standards and the safest testing protocols.
Knowing the full background of how Charlotte's Web CBD products came to be, you may want to now know what is available on the market if you are interested in reaping similar benefits. Here are two ways you can begin to experience this product:
CW Vape Pen
With the popularity of vape pens on the rise, people can now enjoy the ease of taking healthy herbal oils, such as Charlotte's Web hemp oils. It's not just a product for tobacco smokers, and anyone can readily appreciate the benefits of the top-quality Charlotte's Web CBD vape pen products on the market. They are convenient one-use, disposable CW CBD pens, and you can easily vape your daily serving of CBD to experience the full relaxing properties of Charlotte's Web CBD vape oil.
For users who have concerns over the ease of use, Charlotte's Web CBD vape pen would be an excellent choice because there are no messy refills or tanks involved. Each pen contains 50mg of prefilled Charlotte's Web CBD vape oils. You will enjoy the freshest and best quality flavors without the worry of the cleanup.
The reviews are in agreement that Charlotte's Web CBD vape pen does wonders for their chronic pains, anxieties, stress, arthritis, and more. They really like the assorted flavors that it comes in: strawberry, watermelon, mint chocolate, and natural hemp.
CW Everyday Usage
Charlotte's Web CBD oils are the best option for individuals looking for the greatest offerings of a potent CBD supplement with the highest quality standards. The CW hemp oils are extracted from Charlotte's Web CBD seeds as well as the stalks of the plant. It is very rich in CBDs, terpenes, omegas, and contains little to no THC.
The oils can be added to your teas, water, or other drinks, but you can also take it alone on its own. This particular method of ingestion is safe for all ages, even in young children, as in Charlotte Figi's case. The non-THC formula ensures that there will be no psychotropic effects or a high, making it extremely safe for young patients.
General reviews agree that adding Charlotte's Web hemp oil to a daily diet can potentially help improve mental and cognitive health. It is reviewed to be highly safe when ingested and taken as a part of your daily supplements. It can be a great alternative to other medications that users take for their medical conditions.
 Charlotte's Web Strain Overview
Charlotte's Web (CW) CBD is a cannabis variety that was cultivated by selective breeding. It has less than 0.3% THC (tetrahydrocannabinol), which makes it ideal for easing seizures as well as a wide range of other conditions. CW is a high-CBD (cannabidiol) strain that is perfect for medical relief without it affecting the functions of daily tasks.
Low THC levels and high CBD content means that CW is a hemp-derived product with little to no psychoactive effects (a high). In fact, that is one of the biggest concerns that many individuals considering hemp and cannabinoid products have. This strain was created specifically to have virtually no THC for a product that works directly to calm the body with a high CBD content without any cognitive side effects.
According to the Colorado Pot guide, "Charlotte's Web is still a relatively rare strain, but it has quickly become sought after throughout medical marijuana communities — often making many families with sick children move to the state of Colorado where it's primarily found." (1)
In 2009, a Colorado-based company began to breed a high-CBD strain to find an alternative for individuals that did not benefit from the high THC levels in a lot of the products in the medical cannabis industry. It found that high THC compounds did not serve many patients very well, specifically those who do not benefit from the psychoactive properties and also revealed potential antitumor properties of most low CBD strains.
Attributes
Charlotte's Web CBD has the therapeutic potential to provide a mild and relaxed alertness that is calming and soothing. It also has the characteristics of a potent anti-inflammatory and antioxidant, allowing you to get relief without the drowsiness and mind-altering side effects of THC.
Flavors
Charlotte's Web hemp oil is less pungent than other cannabinoid oils on the market. It smells and tastes like olive oil. Ingesting it is quite pleasant without any sour aftertaste. It can easily be chased with water, and it does not create any hard-to-digest feelings in your stomach after taking it.
Reviews
The overall reviews of Charlotte's Web CBD users are generally the same. Many praise the strain's ability to give relief without any of the mental disengagement you get from other cannabis products. Most of these Charlotte's Web CBD reviews agree that the best thing about the product is that it allows them to go about their lives and perform day-to-day activities. They now have the choice to take back their lives by getting a second chance at controlling their pain, depression, and maladies.
Most have heard about the strain from watching the Charlotte's Web CBD story featured on CNN's documentary, "Weed," with Dr. Sanjay Gupta. Many people were amazed at what the oil could do for ailments and tried it for themselves to see what life-changing effects the strain could have on their lives. The medical conditions mentioned include anxiety, alcoholism, back pain, chronic pain, diabetes, depression, epilepsy, Fibromyalgia, Migraines, Multiple Sclerosis, PTSD, Psoriasis, Rheumatoid Arthritis, Schizophrenia, and Psychosis, just to name a few.
Benefits of High CBD Strains
The medical benefits seem to stem solely from the CBD components of Charlotte's Web. The high-CBD strain has become a much-needed product in the medical community. With THC levels as low as they are in Charlotte's Web CBD strain, Charlotte's Web hemp oil has rapidly grown in demand because of the results observed by its users.
High CBD strains are not used for smoking. They are used to create extracts to be ingested as oils, vapes, and other topicals. Charlotte's Web CBD oils are now widely accepted medically and legally in many countries and states where marijuana is illegal. The neuroprotectant benefits speak for themselves, and the strain can potentially be a helpful preventative measure against Alzheimer's, dementia, or Parkinson's disease, to name a few.
How CBD Works
Charlotte's Web CBD works by attaching itself to your brain's receptors – for example, to receptors for pain. These receptors can be found all over your body, but especially in your brain. (3)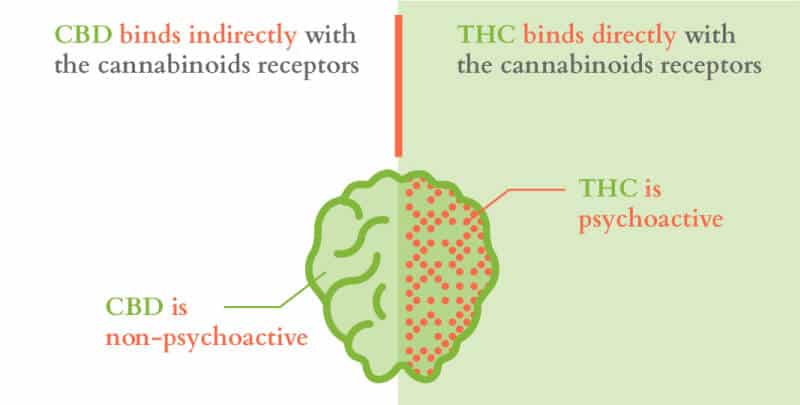 There are two types of CBD receptors in your body. One is in the brain, which deals with movement, coordination, thought process, emotional state, memories, pain, and appetite. The other receptors deal with your immune system, inducing pain and inflammation.
Research found that high CBD cannabis triggers these receptors to promote the use of your body's own cannabinoids. Charlotte's Web CBD works exactly in this way as it encourages your body to produce compounds to relieve your maladies.
Unlike THC, CBD does not work directly at the receptors in our bodies, which explains why it does not have any mind-altering effects. While THC has appetite-stimulating, pain-relieving, anti-tremor, and anti-inflammatory properties, CBD has additional neuro- and immuno-protecting properties. Charlotte's Web CBDs also have antipsychotic and antioxidant benefits that make it such an appealing alternative in the medical community.
Charlotte's Web CBD has also been found to be a nontoxic compound in your body (4), making it safe for long-term usage for patients needing prolonged relief. The medical use of THC has always had its setbacks and objections due to its intoxicating effects, such as sleepiness, memory loss, and paranoia. Therefore, CBD usage has been on the rise, especially because it promotes wakefulness, allowing users to carry on with their day.
Legal Status of Charlotte's Web
As the use of medical cannabinoids continues to be considered dangerous and taboo, the politically charged issue has a lot of room to evolve in the medical community. Due to the recent positive findings of the usage of CBDs, the legal status of Charlotte's Web CBDs has slowly been shifting.
Compounds like Charlotte's Web CBD oils have long been prepared and used as medicine. But, until recently, they had been banned since the 1930s due to the dangers of abuse.
The legality lies in the levels of THC in the product, which determines whether the strain is considered medical marijuana or hemp. While THC is well-known for its high, caused by breaking down the cannabis plant by heat via smoking it or cooking it, high CBD strains are found in the least processed part of the plant called hemp.
Charlotte's Web CBD is currently grown in an undisclosed location in the mountains of Colorado Springs as hemp, but it was originally a marijuana strain. The Stanley brothers were playing around with the different levels of THC and CBD in their marijuana supply and founded the current Charlotte's Web strain.
Their company, CW Hemp, uses industrial hemp to produce its Charlotte's Web CBD oils. The THC level is almost undetectable at 0.3%, and the oil can be classified as a hemp product, making it legal to sell in 50 states and several countries.
President Obama signed the Agricultural Act of 2014, or the 2014 US Farm Bill, to allow the cultivation of industrial hemp by universities and state departments for the purposes of research and education. (5)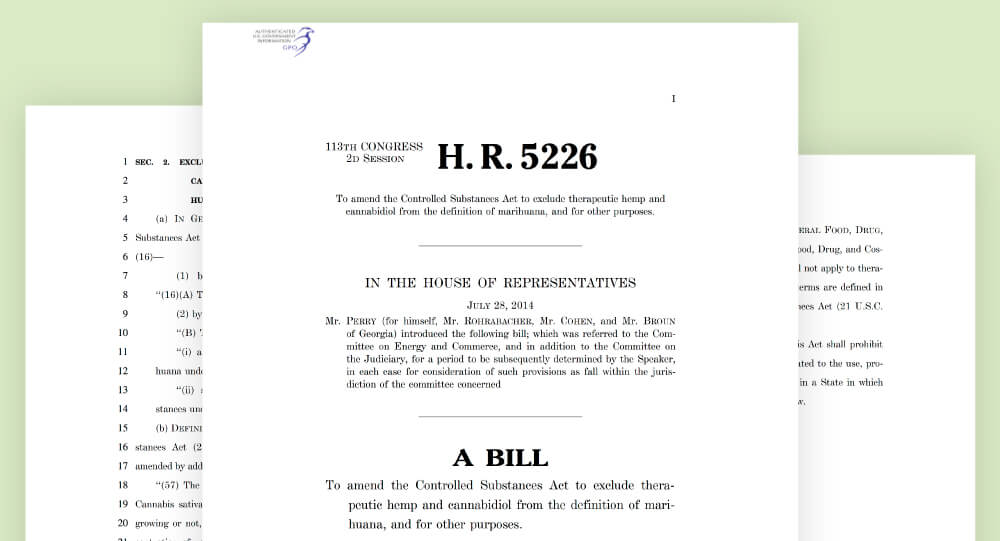 Hemp was subsequently excluded from the definition of medical marijuana in the Controlled Substances Act. Legally, this gives the states the control to regulate the growth and sales of hemp crops, making it available to be sold in health food stores.
Research on High-CBD Strains
Members of the scientific and medical communities have expressed concern about the lack of substantial research on the use of medicinal cannabis. The use of marijuana is restricted. Therefore, very little research is available to support its medical use. Research is difficult because of the many restrictions around the subject.
With several bills being introduced recently to allow the analysis of medicinal marijuana, extra funding for research has been provided. However, many universities and research facilities continue to refuse extensive cannabinoid research for fear of being cut off from federal funding due to the unknown legality of cannabis products.
The sudden interest in this area of medicine has its good points as well as its bad ones
Many physicians have shown their concerns as well as curiosity over the effects of Charlotte's Web CBD products. They admit that the sudden interest in this area of medicine has its good points as well as its bad ones. There is apprehension surrounding the hype of the drugs when there is very limited research on the actual effects of it. There is just so much uncertainty on whether it works or if it may have side effects in the future.
While there is a lot of case-to-case evidence that showcases the powerful effects of CBD, there has been minimal scientific and empirical research that indeed shows therapeutic value of CW products. There is a lot of room for growth and opportunities for clinical research to be done. Luckily, the medical and scientific communities are now open to having more discussions about Charlotte's Web CBD and other related high-CBD products.
Other High-CBD Strains
There are several high-CBD strains other than Charlotte's Web CBD products. Similar strains include Sour Tsunami, Cannatonic, ACDC, and Harlequin. Charlotte's Web CBDs, however, is the only strain that has the least amount of THC. These other high-CBD strains are known to have high THC levels as well, so if you are looking for high-CBD strains only, Charlotte's Web CBD oils may be the best product for you.
For users who may benefit more from strains with higher THC levels, the alternatives presented above may fair better with a 1:1 to 5:2 ratio of CBD to THC. It is important to remember that every strain may differ slightly depending on the grower of the strain.
Oils, extracts, and vape pens are amongst the more popular methods of ingesting these different strains. But as Charlotte's Web gains public acceptance, it may see widespread legal adoption before medical marijuana is adopted within the medical community.
Do you have a story like Charlotte's? We would love to hear about it and find out how Charlotte's Web CBD products have helped you in your life. Let us know in the comments below!