Table of Contents
How Long Does CBD Take to Work?
CBD can generally take from a few minutes to a couple of hours to work properly, depending on the serving size, the method of consumption, and the symptom you want to alleviate.
By vaping or sublingually ingesting CBD, you can start feeling effects within minutes. If you consume CBD in edible form, it may take a few hours to kick in.
Vaping your hemp oil is one of the most effective methods of absorption, and you can try it easily and safely with our vape starter kit.
Using your CBD sublingually (for example, with our CBD oil herbal spray) is the second most effective method of absorption, giving you relief within minutes.
Applying CBD products topically leads to relatively slow and uniform absorption, ensuring that the skin remains moisturized and receives CBD's benefits over a longer period of time.
Eating a delicious product like our CBD chocolate (or the hempy-tasting high-CBD hemp oil) takes longer, from 20 minutes to an hour, depending on how much you ate before and how long ago your last meal was. It's best to use CBD oil on an empty stomach.
How Long Does it Take for CBD Oil to Work for Joint Pain?
If you combine your CBD oil with a drink or food, you'll have to wait longer, but you are also safe from side effects like headaches and dysphoria.
The potency depends on the serving size and on what you want to alleviate.
Don't expect your CBD effects to last as long as they do for others. Everybody is different and reacts differently to CBD oil. The only way to know for sure is to try.
Remember: always start with a low serving size, and work yourself up slowly. Let your physician know before you start using CBD, especially if you suffer from chronic illness and take medication.
What Are the Benefits of Using CBD Oil?
At low levels (1 to 20 milligrams), CBD can help you feel relaxed and take the edge off the day without making you feel sedated. At higher levels (20+ milligrams) you may feel very relaxed and possibly sleepy. Each person responds differently, so it's best to start low and work up in serving size.
CBD has many of the same beneficial effects as THC. Studies on CBD and THC are quite recent, but there is already enough evidence to see some of the following benefits:
Stress Relief & Improvement in Mood
Chronic Pain or Acute Pain Relief
Reduced Itchiness or Other Skin Irritations
Improved Sleep
Reduction in Joint Pain & Inflammation
Eased Nausea or Vomiting
CBD is a natural cannabinoid found in the cannabis plant. Both hemp and marijuana belong to this same cannabis family, but they are two distinct plants (technically, not taxonomically) with different CBD contents.
Marijuana contains both CBD and quite a bit of THC. THC is an illegal substance in most states and countries, as it causes an addictive high and has a potent psychoactive effect. Industrial hemp, on the other hand, contains very little THC and a lot more CBD.
Some people want the combined effects of THC and CBD to address their symptoms and prefer high-CBD marijuana strains, while others who only want to enjoy the non-psychoactive CBD prefer high-CBD hemp oil. CBD is the non-psychoactive component of cannabis used to improve sleep, relieve stress, or alleviate pain and inflammation. Use the interactive image below for more information, or check out the latest cannabidiol research for the newest information on its health benefits.
Choosing the best form of CBD product for your lifestyle will make a difference in the benefits while treating your ailment. From tinctures to topicals to vape oils – check out our buyer's guide to help you choose the best option.
There are many benefits to CBD oil, and the effects vary based on what you are using it for. Use the interactive image to see how you can benefit from CBD.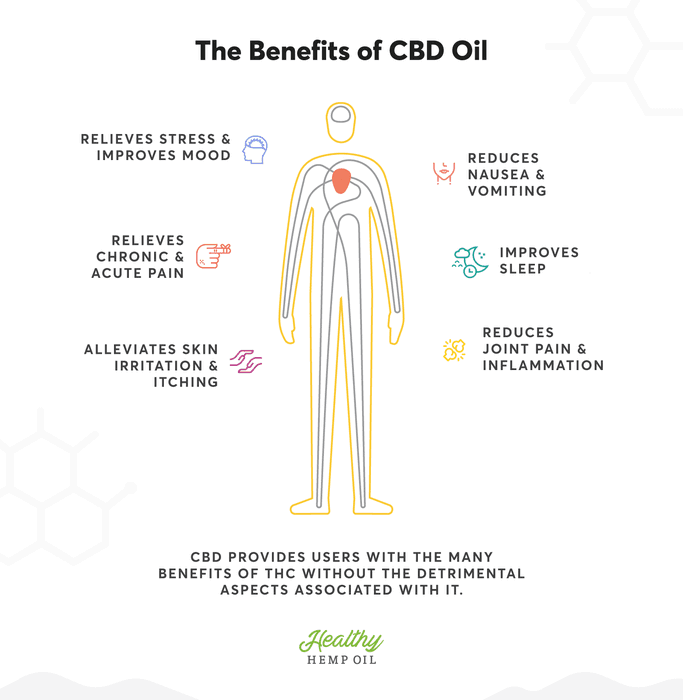 What Is the Fastest Way to Feel the Effects of CBD?
Since every person is unique, your individual chemistry will determine how CBD affects you and how long it takes for it to start working. Your age, sex, weight, and whether you are currently taking other medications can all come into play. The nature of the symptom that you are seeking to combat, your mode of consumption, and serving size are also factors that will affect how long it will take for CBD to start working after you use it.
Here are some popular methods of consuming CBD in order of the fastest way to experience the effects. We also provided general information about the window of time for onset of effects.
1. CBD Vape Inhalation
Inhaling CBD vape oil with a vaporizer is one of the fastest ways to begin experiencing the benefits of CBD. Vaping is a rapid method for relief because the CBD enters your lungs, diffuses directly into your bloodstream, and circulates throughout your body, bypassing your digestive system.
You can typically expect to start feeling effects within a minute or two of inhalation, and they will generally last for a few hours. You can vape throughout the day, but if you are new to inhaling CBD, you should probably keep your daily serving size to less than 10 milligrams.
Check out our CBD Vapes & Oils to get started.
2. Sublingual CBD Ingestion
The second fastest way to reap the benefits of cannabidiol is to take a CBD tincture sublingually (under your tongue) by using a spray or dropper bottle. When you use CBD sublingually, you can start experiencing an onset of effects within 30 to 90 minutes from ingestion. These effects will typically last four to six hours.
Like inhalation, sublingual intake is such a rapid method because it allows the CBD to enter the bloodstream directly, bypassing the stomach, intestines, and liver. (1)
Our Herbal Renewals: CBD Oil Herbal Spray is a fun, easy way to try CBD sublingually. Just spritz two pumps on your tongue for a 1.25-milligram burst. The average serving size is 3.1 milligrams, but you can adjust it to find the best amount for you.
3. Topical CBD Application
Research suggests that CBD has anti-inflammatory benefits when applied externally. (2)  The antioxidant properties of CBD may also protect your skin from the free radical damage that leads to pigmentation, wrinkles, and signs of aging. (3) Topical application may also be beneficial for some skin conditions, like pimples and dryness, and may provide localized relief from muscle soreness and joint pain.
Common topical CBD products include balms, lotions, oils, and salves. They work by binding to CB2 receptors near the skin and activating the endocannabinoid system, without being absorbed into the bloodstream. Human skin absorbs these cannabinoids at a low rate; this is why many cannabis topicals recommend liberal application to the affected area. Topical methods are slower to take effect than other methods (generally more than an hour), but the benefits may be long-lasting (often five or more hours).
Try our Plus CBD Oil: Hemp Salve to relax and soothe you while moisturizing your skin.
4. CBD Edibles and Capsules
You can ingest CBD in edibles, like gummies or brownies, or in capsule form. However, these modes of consumption are relatively slow. This is because your body must digest and absorb the food or capsule before you can begin experiencing the effects of CBD.
After ingesting a CBD edible or CBD capsule, you may start feeling effects in as little as 20 minutes, depending on your individual digestive system and metabolism. For most people, though, it takes about 60 minutes to start feeling the effects of CBD that has been ingested via edibles. You may be able to hasten the effects on your individual system by ingesting CBD on an empty stomach; it can take much longer if you have just eaten a large meal.
Try our delicious CasaLuna: CBD Chocolate Bar in milk or dark chocolate for a portable, discreet way to enjoy CBD anywhere, anytime.
How Much CBD Do You Need?
It is best to start with a small CBD serving size and increase gradually. Everybody reacts to CBD differently, and progressively increasing your intake will allow you to learn the effects that CBD has on you. Give your body time to adjust by slowly building up your serving size over a few weeks, while staying alert to any side effects. You can stop increasing your serving size once you feel total relief from your symptoms.
You'll need a different serving size depending on your needs. Also, each body reacts differently to CBD. Some people are extremely sensitive and need very little, while in rare cases some don't feel effects even after several servings. Each person is unique, and you need to find your own sweet spot.
There are some average numbers that can help you determine how much CBD you might want to start with.
Serving size is best measured as pure milligrams of CBD because each product has a different concentration.
Start really low (2 to 3 milligrams) and work yourself up to the recommended serving size. As soon as your symptoms are gone, you will need to stop increasing the serving size; if your symptoms worsen, discontinue use or lower your serving size.
And as usual, if you have a serious health issue, we urge you to see your doctor for recommendations.
How Long Does CBD Last?
While your metabolism plays a significant role in how long it takes your body to process it, CBD oil will generally stay in your system in trace amounts for three or four days. However, these trace amounts do not necessarily correlate to the detectable effects of CBD.
Depending on your mode of use, CBD oil effects will last for two to six hours, with topicals reigning as the longest-lasting products, followed by capsules and edibles.
What If I Don't Feel Like CBD Is Working?
CBD works for everyone in different ways. Certain CBD products, particularly edibles, require longer to work based on metabolism and the natural digestive process, so you may just need to wait a little longer. You may also need to experiment with servings sizes to determine exactly what works best for you. Start low and slow. If you've waited a few hours and feel like the CBD isn't having an effect, very slightly increase your serving size and wait again. This may take some trial and error, but part of the beauty of CBD is the way it allows you to customize your servings and determine exactly how much you need.
Frequently Asked Questions
---
Should consumable CBD oil be taken on an empty stomach?
No. Consuming CBD oil with food enhances its bioavailability, allowing more CBD to enter your bloodstream, therefore increasing its effectiveness.
While some manufacturers recommend taking their CBD oil products on an empty stomach for faster results, doing so will decrease its overall potency.
One way to avoid taking your CBD oil with food is to use a CBD tincture sublingually, which allows the CBD to bypass the digestive system and enter the bloodstream through mucous membranes in the mouth.
---
What is the best time of day to take CBD oil?
There is no perfect time of day to use CBD oil. Because it's important to keep your CBD servings consistent, the ideal time to use CBD oil is when it best fits into your schedule. You'll need to monitor how long the effects last for you to figure out the best times throughout the day for your servings.
If you find CBD produces an awakening effect, it may be helpful to use it in the mornings or early afternoons. However, if you feel drowsy after taking CBD or are using it to promote healthy sleep habits, it's probably best to limit your servings to the evening hours.
For most people, the important factor is that you're taking your CBD oil at the same time every day to ensure its effects are consistent.
---
Where can you find high-quality CBD oil?
When you buy CBD online, stick to vendors who invest in third-party lab tests and provide only reputable, US-manufactured products. Hemp oil is expensive to produce at the highest purity and quality standards, so you should steer clear of any suspiciously cheap offer or product, as it may contain substances you don't want to ingest. Check out our best CBD oil page to discover some of the most popular product types.
---
Do you have something to add about CBD? Tell us your opinion below in the comment section!
---
FDA Disclaimer:
These statements have not been evaluated by the Food and Drug Administration. Products sold by Healthy Hemp Oil are not intended to diagnose, treat, cure, or prevent any disease. The information on our website is intended to provide general information regarding our products and is not to be construed as medical advice or instruction. Read more